Out of Stock
Vitamin D3 Chocolate Supplement
$35.99
Free Shipping on Orders Over $50!
In need of some sunshine? With 1,000 IUs per piece, this chocolate supplement could boost your Vitamin D3 levels and your mood!*

Non-GMO Ingredients. Fair-Trade Dark Chocolate. Coloring from Fruits & Veggies. Doctor-Founded.

Your purchase supports our partnership with cleft palate repair charity, Smile Train, spreading smiles across the world!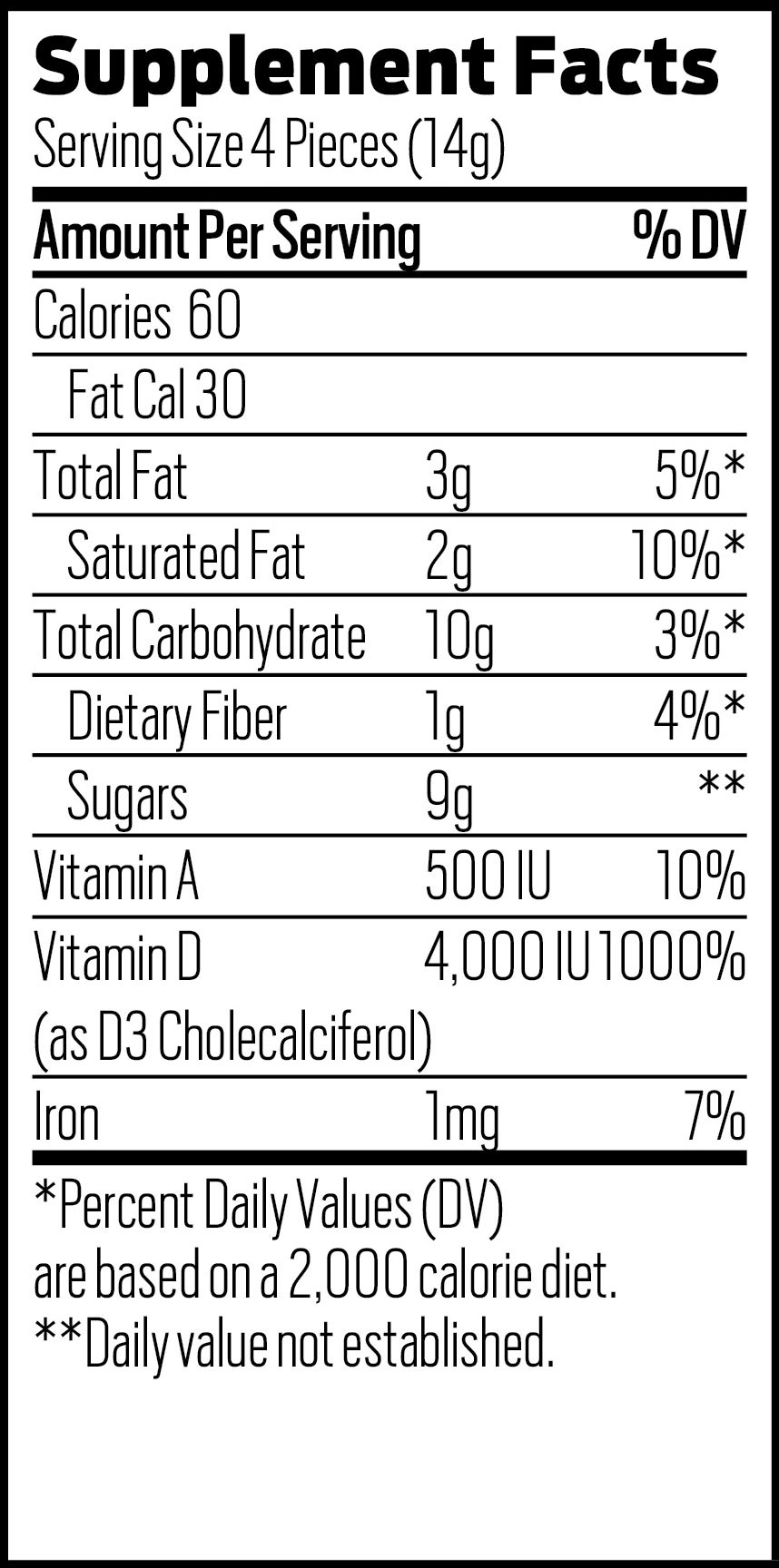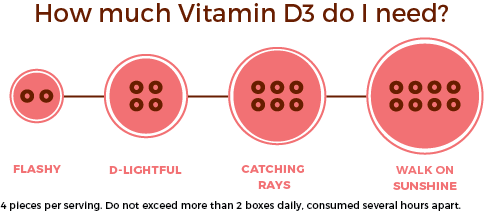 Ingredients: Dark Chocolate (Fair Trade Unsweetened Chocolate, Fair Trade Sugar, Fair Trade Cocoa Butter, Soy Lecithin [An Emulsifier], Fair Trade Natural Vanilla Extract), Sugar, Coloring (Beet Juice, Beta Carotene), Vitamin D (as D3 Cholecalciferol), Gum Arabic, Carnauba Wax.
Contains Soy. May also contain Milk, Peanut, Tree Nuts, Wheat.
How much Vitamin D3 is in a box?
There are 8,000 IUs (international units) per box, or 1,000 IUs per piece so you can easily control how much Vitamin D3 you need.
How much do I need?
It's always good to ask your health care provider for advice on what's best for you. With 1,000 IUs per piece, you control the amount that's right for you.
Are these safe for children?
Our Vitamin D3 Supplement is made for and marketed to adults. We always recommend speaking with your pediatrician if you're considering giving a vitamin or supplement to your child.
Does it contain dairy?
Nope. Our Vitamin D3 Supplement is made with Fair-Trade dark chocolate.
What's the benefit of Vitamin D3?
Vitamin D3 is known as the "sunshine vitamin." It helps with calcium absorption and facilitating normal immune system function. It's also important for normal development and growth of bones and teeth.
Is it organic?
We are not certified organic but we use Fair-Trade chocolate and we only source premium, Non-GMO ingredients.
Is it Non-GMO?
Yes! All Good Day Chocolate products are made with premium, Non-GMO ingredients.
Is it gluten free?
All of our dietary supplements are naturally gluten-free, so we never use wheat as an ingredient, and we do everything in our power to ensure that wheat doesn't contaminate our products. However, we manufacture our products in a facility where we use shared equipment that may be used at some point to manufacture products that contain wheat. Although the equipment is washed thoroughly, like scrub-scrub-scrub, distill-distill-distill, and even though quarterly tests are performed to ensure we are less than 20 PPM, the FDA still requires that we include the statement "may contain wheat" on our packaging.
What if my dog eats it?
Our Vitamin D3 Supplement is not good for Rover. You never want to give your dog chocolate. It's sweet for humans and no bueno for your pooch! We recommend you contact your veterinarian if your dog eats Good Day Chocolate.
Is it vegan-friendly?
No. Our Vitamin D3 is sourced from lanolin. Our Energy, Probiotic and Turmeric Supplements are vegan-friendly.
How much is one serving?
There's two servings (4 pieces per serving) in each box. The beauty of Good Day Chocolate is you control what's right for you. Two pieces has you feeling "flashy" and four pieces is "d-lightful"!
What is the coloring on the shell?
No dyes around here! We use beet juice and beta carotene to color our Vitamin D3 Supplement. The candy-coated shell adds a splash of color and flavor, and helps keep the pieces from melting, so you can take them on the go.
How much sugar?
There are 2g of sugar per piece.
How many calories?
Our Vitamin D3 Supplement is waistline friendly! 4 pieces is only 60 calories and helps with your overall immune health. That's news to brighten your day!
What happens if you take two or more kinds of Good Day Chocolate together?
You'll see rainbows and unicorns! Seriously though, it depends which few you mix. It wouldn't be helpful to take Energy and Sleep together, but Vitamin D3 Supplements will complement any of our other products.
Where is it manufactured?
All of our products are made with love in the USA!
Return Policy

Most importantly, we want you to be happy and excited about your Good Day Chocolate! So, if you receive product from us that is damaged or defective, please email hello@gooddaychocolate.com with a picture of the product and we'll replace it ASAP.
Have a different mood in mind?