Energy Dark Chocolate Supplement*
A smooth and lasting boost that's easy to control and delicious to eat. 20mg of caffeine, green tea and B vitamins in each piece. 4 pieces = 1 cup of coffee!
Non-GMO Ingredients. Fair-Trade Dark Chocolate. Coloring from Fruits & Veggies. Doctor-Founded.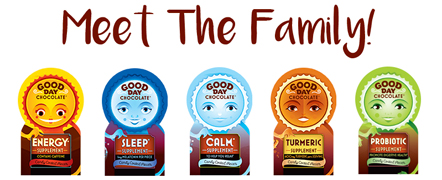 Your purchase supports our partnership with cleft palate repair charity, Smile Train, spreading smiles across the world!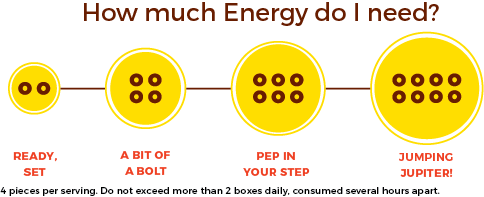 Ingredients: Dark Chocolate (Fair Trade Unsweetened Chocolate, Fair Trade Sugar, Fair Trade Cocoa Butter, Soy Lecithin [An Emulsifier], Fair Trade Natural Vanilla Extract), Sugar, Cocoa Butter, Gum Arabic, Coloring (Beta Carotene), Carnauba Wax.
Contains Soy. May also contain Milk, Peanut, Tree Nuts, Wheat
WHAT'S IN ENERGY THAT MAKES IT WORK?
We make each piece of ENERGY with 20mg of caffeine—one box is like two cups of coffee. We've added the bonus of B vitamins, amino acids, and Fair-Trade dark chocolate to give you a smooth boost in a delicious treat.
WHERE IS THE CAFFEINE SOURCED?
From caffeine's ancient, trusted origin: natural green tea.
HOW MUCH IS ONE SERVING OF THE ENERGY SUPPLEMENT?
There are two servings in each box of Good Day Chocolate. Eight pieces per box means four pieces per serving. For Energy, 1 piece is equal to a quarter cup of coffee, so get ready to add some pep to your step!
DOES THE ENERGY SUPPLEMENT CONTAIN DAIRY?
Our Energy product is made with Fair-Trade dark chocolate. Although our facility does also manufacture dairy products, the ingredients in Energy do not contain dairy.
ARE GOOD DAY CHOCOLATE PRODUCTS NON-GMO?
Yep, only non-GMO ingredients, always!
WHAT IS THE COLORING ON THE SHELL?
We use fruit and vegetable concentrates to color our products—no artificial anything in our coatings! Our Energy Supplement is colored with Beta Carotene. The non-GMO shell helps keep the pieces from melting, so you can take them on the go.
HOW MANY CALORIES DOES ENERGY CONTAIN? I MEAN, IT IS CHOCOLATE AFTER ALL.
Don't be fooled! Our Energy Supplement is a great way to beat the afternoon slump, at only 60 calories per serving.
IS THERE SUGAR IN GOOD DAY CHOCOLATE SUPPLEMENTS?
Yes, but not much. There are only 8g per four-piece serving—just enough to create our yummy treats convenient candy shell, but no more.
Return Policy
Most importantly, we want you to be happy and excited about your Good Day Chocolate! So, if you receive product from us that is damaged or defective, please email customerservice@gooddaychocolate.com with a picture of the product and we'll replace it ASAP.
Have a different mood in mind?